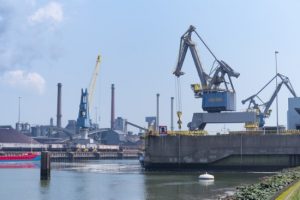 Edition 27 December, by Sagar Harinarayan
Tata Steel Europe plans to cut 3000 jobs during an organization-wide restructuring. The company is embarking upon a transformation program, deemed necessary due to market conditions and a fall in profits. The underlying causes for this state of affairs are global overcapacity, dumping of steel and rising allowances. Hendrik Adam, CEO of Tata Steel Europe, announced that this program should result in a financially strong and sustainable company. The Indian parent company Tata wants its European steel branch to be self-sufficient and pay off its debts in 2021. An EBITDA (earnings before tax, interest, depreciation and amortization) of a whopping 750 million pounds (i.e. 875 million euros) is required to make this possible. And in order to facilitate this, staff costs need to be reduced by 170 million euros.
Several recent reports had suggested that Netherlands will bear the major brunt, because large parts of Tata Steel are located here and the site at IJmuiden is its largest production location. Of the 20,000 jobs across Europe, 11,000 are in NL. About two weeks ago, the company confirmed that 1600 jobs will be lost in the Netherlands, 1000 in British offices and 350 in the rest of the world. Two-thirds of the scrapped jobs are office and management roles. It has been hinted that the British and Dutch office will be integrated and the Netherlands will lose its own supervisory board.
In the coming weeks, Tata is expected to sit down with the Central Works Council (CWC) in the Netherlands and discuss alternative solutions. Trade union FNV has warned the company that it should expect strikes and other labour actions if it fails to come with a better plan than mass layoffs. Frits van Wieringen, chairman of the CWC, is disappointed that the Netherlands is the worst-affected region. He said: "It is completely unacceptable to us. Maybe we are making only a few million euros in IJmuiden now, but the problem is in Great Britain."
It is true that the British branch of Tata has been suffering losses for a while. But the situation in IJmuiden is worse. This factory, with 9000 employees, primarily supports the automotive and packaging industry. With the German automotive sector going through a rough patch, IJmuiden is naturally facing lower demands. Moreover, Tata has announced its intention to perform the bulk of its activities in India. Thachat Narendran, chairman of the Indian steel company, said that it is getting more challenging by the day to support European operations. There has been an overcapacity in the European steel market for a while now. And Chinese producers sell steel at relatively cheap prices in Europe, creating a competitive disadvantage for European producers. Other problems that have cropped up in recent month include nuisance caused by graphite rains, harmful substance emission and possible violation of European standards.
Earlier this year, Tata temporarily stalled the revolutionary Hisarna project in IJmuiden. This project involved the development of a new process with significantly lower carbon dioxide emissions. However, installation activities for this project have now commenced in India. This is a major concern, because it reinforces the speculation that the company no longer sees value in investing in Europe. Too add to its woes, the company stock value on the Mumbai Stock Exchange has plummeted by 33%. Experts have attributed this to the deterioration of the international steel market.
Trade union FNV acknowledges these problems, but holds management accountable. John de Vries, FNV executive, said: "This has to do with cuts in maintenance, a high level of bureaucracy and poor personnel policy." He reckons the rest of the issues stems from a temporary economic slump. FNV is prepared to oppose the transfer of work to India in all possible ways. Tata's employees are still extremely organized, with many being members of a union.
A Tata spokesperson said: "We are aiming for a simplified and sustainable organization. We expect these changes will result in a reduction in personnel costs." He could not reveal anything else about the reorganization plan. De Vries correctly pointed out that a formal employee guarantee until October 2021 is in place, which means that drastic changes cannot be implemented until then. Meanwhile, Tata is also looking at other areas of improvement, like the supply chain, production performance and use of raw materials. Let's hope that Tata produce a brainwave to resolve this issue and prevent (or at least minimize) layoffs.