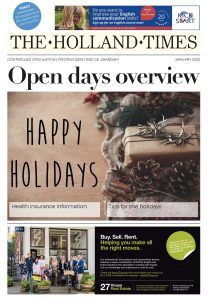 Here you can find an overview of all articles published in our paper, together with practical information on issues that may be of interest to you.
Do you visit this site for another reason than to read our articles?
Please have a look at the questions below.
I want to take a private subscription
I want to know where I can find The Holland Times
I want The Holland Times provided free for people in my organization
I want The Holland Times offer free my clients / visitors
I like to write articles for The Holland Times
I would like to receive information about advertising in The Holland Times
For other questions fill in the contact form below.
---
Contact details
Advertising
Bert Versteeg
bert@hollandtimes.nl
Phone: 020-506 39 26
Contact, only for embassies and international organizations:
Nanda Jagusiak
fernandajagusiak@yahoo.com
Phone: 06 16 04 06 05
General questions
Caroline Spraakman
c.spraakman@argomedia.nl
Please fill in the form below if you did not find what you were looking for. We will contact you within two working days.